Perimeter 81 Business VPN Review

With the growing adoption of cloud infrastructure, business operations and interactions have been made easy and secure by the use of VPN technology.
The radical changes in tech have rendered traditional network security solutions obsolete.
Business institutions, i.e., SMEs and huge corporations, have now embraced remote business operations; employees can efficiently work from anywhere across the world.
However, to facilitate this, you will need a high-end VPN option with a robust security protocol. That's where Perimeter 81 comes in.
What Is Perimeter 81 VPN?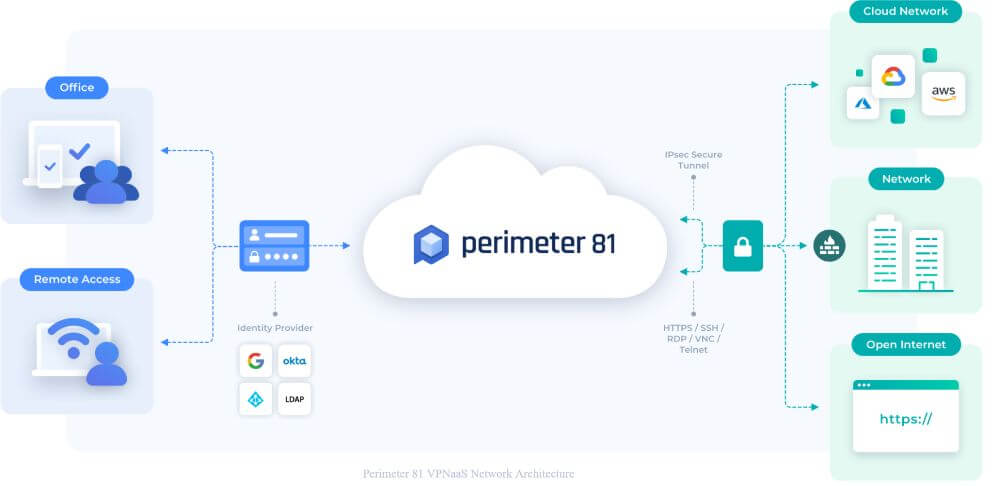 Perimeter 81 is an industry level VPN solution that provides employees with flexibility as far as remote working is concerned. This VPN option is designed to secure your company's cloud network as well as internet networks from hackers and internet snoopers.
Besides, it provides IT professionals with an opportunity to comprehensively customize networking with an account of the institution's needs and preferences. With that said, we will proceed to expound on the very specifics that you need to know before purchasing the Perimeter 81 license.
Who Can Benefit From Perimeter 81?
You are probably wondering, can I integrate Perimeter 81 for personal use?
The answer to that question is YES; you can. You can use it to protect your home network, secure your internet traffic on unsecured public WI-FI hotspot, Stream movies on Netflix, and access geo-restricted sites.
Check our ranking of top personal VPNs for Netflix 
However, the tool is more of a business VPN tool. Its cloud VPN architecture eliminates the need for hardware cybersecurity tools and hence reducing cost for businesses. Equally, the program has vast features that guarantee safety for employees working remotely.
It literally provides end-to-end data encryption and 2FA authentication that acts as an additional network security option. The program can seamlessly be integrated within the following industries
Healthcare: Through 2FA and end to end data encryption perimeter 81 provides health care companies with a chance to achieve and maintain health insurance portability and accountability data protection compliance.
Tech& SaaS: Tech companies have in a great way embraced cloud-based solutions such as Google AWS, Microsoft Azure cloud. Perimeter 81 VPN offers such companies with safe cloud software integration.  This way such institutions can achieve compliance standards as well as secure their cloud network from hackers.
Financial institutions: Banks and other financial institutions strive to ensure that their customers' financial data remains confidential. Perimeter 81 furnishes them with precisely that. It ensures on-site and on-the-go security for sensitive data.
Perimeter 81 Key Features
Perimeter 81 comes with many awesome features that you will love. Some of its best features include:
A centralized cloud management platform: Through the platform, managers can manage and monitor their work teams, networks, permissions, and network activities. The app has an easy to use security features that include a built-in Single Sign-On integration, a 2FA authentication as well as remote support for your employees.
Supports multiple cloud networks: Perimeter 81 can be customized, deployed, and segmented based on permission. For instance, each network can be interconnected with either a centrally based function or cloud services such as Google Cloud and Azure through IP whitelisting.
It is a cross-platform application: it can be installed on a whole range of devices i.e., PC, laptops, and Smartphone making is a convenient option for employees looking to work remotely. This VPN solution supports a fairly vast number of devices, which is unlike many premium VPN alternatives. To be more specific, the tool support at least 5 to over 100 devices simultaneously. This practically means that you can have a large number of employees working remotely.
Zero Trust Agentless Application Access: Businesses also get to enjoy advanced network and employee safety through features. Through this feature, network users must go through the trust validation test before being granted access to the application. It ensures that only authorized persons can access application sessions and hence cutting off hackers from the network.
It is compatible with many systems. The program is compatible with conventional operating systems such as Windows, Android, Linux, Mac, iOS, and Chromebook. Besides, it also has a single click web management console. It is, therefore, a convenient option for personal and business use.
Additional features
So, what are the other unique feature do you get to enjoy apart from high-level security protocols?
Well, for starters, Perimeter 81 comes with a unique automatic WI-FI security feature. The feature provides for automatic and immediate industry-level data encryption over any internet network. Hence, you do not have to worry much about using an unsecured public network.
Once you connect to such a network, your internet traffic is automatically routed to the perimeter 81 servers for encryption.
With over 300,000 malware being coded by hackers every day, business networks are always at a risk of being attack. Luckily, Perimeter 81 VPN solution provides businesses and IT experts with a DNS filtering feature.
Using the feature, it is very much possible to filter unwanted contents on the company and personal devices, block malicious sites from your network as well as prevent distractions during working hours by restricting specific sites.
It also facilitates Two-Factor Authentication that can be activated as an additional security layer for organizational data.
How Reliable are the Servers?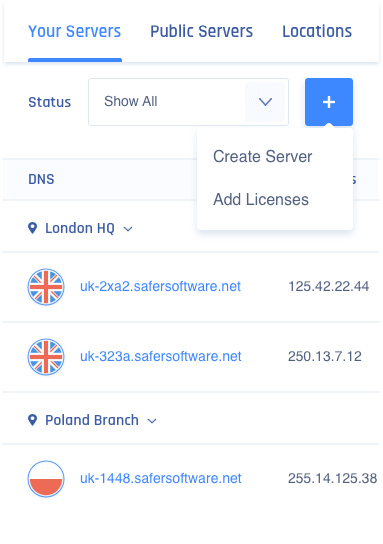 Perimeter 81 has over 700 host servers in 36 different countries. With this vast number of servers, this VPN enterprise solution provides you with relatively fast data encryption speeds and consequently, a reasonable internet connection speed and which results in increased productivity within your company.
So, how robust are the servers with regard to privacy, speeds, and reliability?
Here are the specifics of these particular aspects.
Privacy
Unlike other premium VPN solutions, Perimeter 81 provides businesses with a no-log policy. The no-log policy means that the vendor's serves do not store the clients' data.
This ensures that your online activities are untraceable by government spying agencies and hackers. The policy is a security bonus to businesses.
Speed
Like we established earlier, Perimeter 81 VPN offers clients a relatively fast internet connection. However, internet speeds usually vary depending on internet traffics. For instance, recent speed test in the UK showed a ranging speed of 59-69Mbps.
At this time, their VPN experienced high traffic because of the stay and work from home call by the government. Well, you can agree with me that such speeds are not 'bad'.
In the US, the speed ranged between 64- 69 Mbps while in other locations, the speed hit 284-314 Mbps on a 600 Mbps test line. However, the VPN client has a recorded a 300Mbps peak speed.
This is quite an excellent speed bearing in mind that most premium VPNs rarely hit the 200Mbps mark.
Reliability
VPN services are mainly integrated to ensure/ protect network security. However, VPN tools are not entirely effective when it comes to business data protection.
A perfect example of the major data breach is the Capital One breach that left 106 million bank customer data exposed. Well, Perimeter 81 enterprise solution is far more than a typical VPN. The tool has a powerful management console that facilitates safe application access, data centers, SaaS apps, and the internet as a whole.
The program supports OpenVPN, PPTP, L2TP, and IKEv2 security protocols. They undoubtedly the most secure protocol available today. It also has a whole range of security tools that can seamlessly be customized to enhance network security.
Benefits of Using Perimeter 81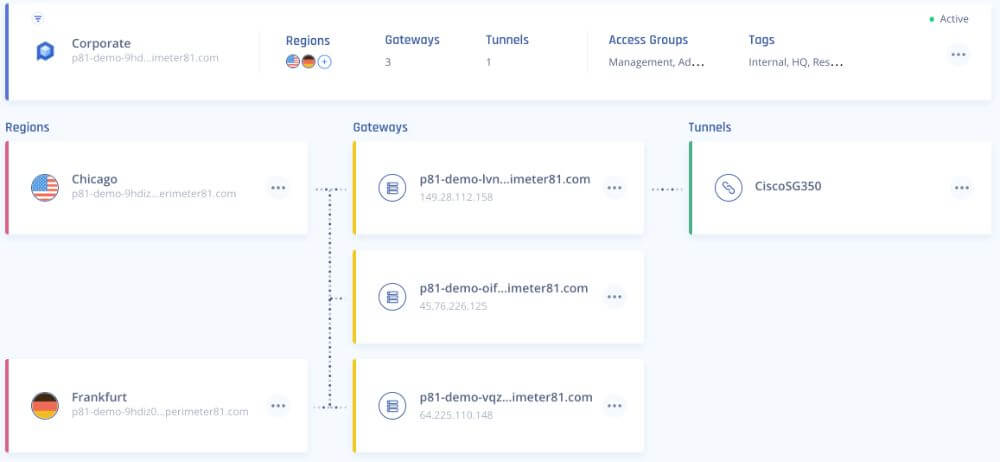 Perimeter 81 VPN is more of a business VPN solution. However, this VPN tool can be integrated for home use. We will now address a few concerns concerning perimeter 81 for home use.
Torrenting
The answer is a big Yes! The program facilitates unlimited bandwidth, which is an enabler for torrenting. Remember, torrents are usually facilitated by peer-to-peer connection, which is a heavy consumer of the internet. Well, perimeter 81 provides you with precisely that.
Gaming
If you are a gamer, this VPN program should be at the top of your list. If you are looking to play online games, play geo-restricted games, and avoid unnecessary bans. Simultaneously, online gaming requires a stable internet connection, which may not be provided by your internet provider. With relatively fast internet connection speeds, this VPN option provides for smooth gaming.
Allows you to Use Netflix of a Different Country
It is essential to note that perimeter 81 is mainly designed for business purposes. However, this does not mean this does not provide access to Netflix. You can easily access UK and US Netflix, US only YouTube contents, and US Amazon Prime Video. Nonetheless, only a few people use the program to access streaming programs.
Cost & Pricing Plans
This next-generation VPN tool comes to you at a rather affordable price package. The packages are designed with regard to the needs of the customers.
Here are the payment plans for the tool:
Essentials: $ 8per user/mo billed annually + $40/mo per gateway with a minimum of 5 users.
Premium: $ 12 per user/mo billed annually + $40/mo per gateway with a minimum of 10 users.
Enterprise: Custom pricing + $40/mo per gateway with a minimum of 50 users.
With the 3 packages, the essential package only caters basic security features; however, if you are looking for more advanced security management and customization for your business, then the Enterprise plan should be your best option.
It should be noted that Perimeter 81 does not come a free trial. However, the VPN vendor has a 30-day money-back guarantee policy. This means that you can get a refund if you are not satisfied with its services.
User Satisfaction
For previous perimeter 81 user reviews, it is undeniable that the VPN business solution is one of the best. Deriving from customer recent customer reviews. Here are a number of advantages and shortcomings that come along with using Perimeter 81 VPN option.
Pros
Has an easy to use interface
Smooth running on all conventional OSs
Speedy internet connections
Robust security protocols, and has comprehensive web management consoles.
Your employees can also enjoy key security features such as the kill switch, automatic WI-FI protection, and two-factor authentication that protect them for data leakages.
Cons
Mac clients do not have the luxury to use PPT or IKEv2 VPN protocols and thus limiting their security protocols options.
All in all, Perimeter 81 is evidently an excellent business network security tool.
Customer Support
Are you experiencing any technical problems with Perimeter 81 VPN? You seriously do not have to go through the hustle when you can quickly contact their customer care desk. They have a proactive and polite customer support desk.
The vendor has heavily invested in 24/7 chats and email support. The response time ranges between 1 hr to 24hrs. You can try them out if you have any queries concerning Perimeter 81 VPN.