SurfShark VPN Review
Free trial:  30-day money back guarantee
Max. devices supported by one account: UNLIMITED
Platforms: Windows, Mac OS, iOS, Linux, Android, Firestick
Netflix: Yes
In this post, we'll go over SurfShark VPN Review and find out whether this VPN is truly worth buying.
Where is the company registered? How long has the company been in business and who owns Surfshark VPN?
Surfshark is a registered company in the British Virgin Islands (BVI). The company has been in business for almost three years as of 18th November 2020 and it is the one that owns Surfshark VPN software. In this short period of time, the company has ramped up its servers across the world reaching over 3,200. Today it serves tens of thousands of loyal customers who love the privacy it provides. It has proven to fast and quite secure when it comes to making sure that you remain secure and private when surfing the internet.
Surfshark VPN Speedtest
Surfshark VPN is one of the fastest VPN in the market. I have used it for high-resolution HD Video conference calls and to watch 4K Videos. When tested for Netflix and other video streaming services the quality of videos was high throughout. If you are into online video games that it important to note that you can play endless games without a drop in the quality of the video.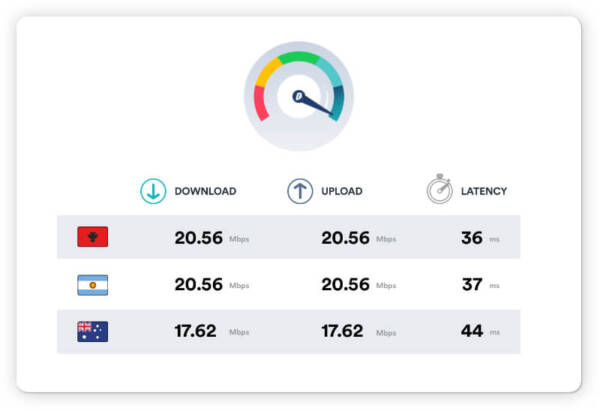 Does Surfshark VPN keep logs activity?
According to testimony from the company that owns Surfshark VPN, this software does not keep logs activity.
The purpose of any VPN is to protect the privacy of its users. This means that making sure that no one traces your activities on the internet. It will be therefore against the main code of operation for VPNs for Surfshark VPN to keep your internet log activities. Moreover, VPN has a team of highly skilled experts who understands that keeping customer's log activities create a weak point in their system where hackers can use to compromise the privacy of customers. For this reasons, you should not be worried about the company keeping your internet logs because it does not.
Device and platform compatibility
Surfshark VPN software is compatible with almost all devices and has got apps for major platforms. Whether it is homework, leisure or artwork, you can protect your MacOS laptop with Surfshark VPN. This Software also adds more security to Windows desktop which is the most popular operating system. With Surfshark VPN, you can go stealth online using Linux operating system virtually without any trace.
Phones and tablets are not left out either. Your iOS and Android phones are fully catered for. Also included are browser Plug-Ins like Firefox and Chrome. Additionally, you can safely watch your favorite Smart TVs like Apple TV, Fire TV and many more others while connected to Surfshark VPN. Last but not least, be assured that nobody can snoop on you as you do your gaming on Consoles such as PlayStation and Xbox as long as you are connected to Surfshark VPN.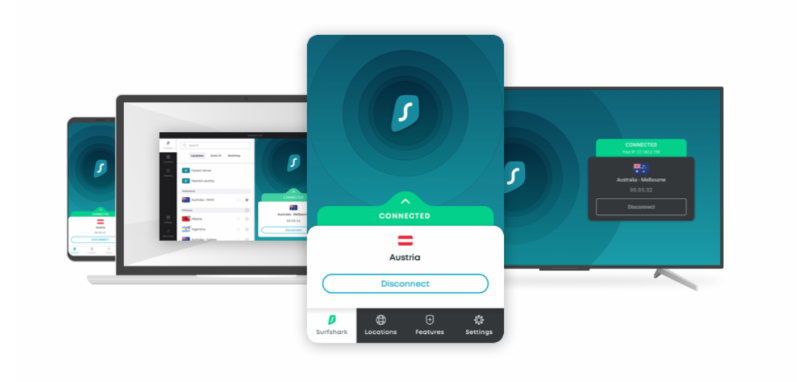 Number of devices supported simultaneously
Although almost all VPN software are known to support the installation of many devices, this differs from one VPN to another and the number largely ranges from 5 to 10 devices per account. However, Surfshark VPN is an exception because it allows for the installation of any number of devices at once; with unlimited simultaneous connections. With a single subscription to Surfshark, you can download and make use of all apps as much as you like on all your devices. Furthermore, this does not in any way affect speed because there are no limitations on bandwidth.
How much does Surfshark VPN cost?
The cost differs because there are three different plans but all of these plans have got 30 days money guarantee back. The first plan is for billing per month and it costs $12.95 monthly. The second plan is where you are billed $38.94 every 6 months. The third and final plan is for 24 months which comes with a bonus of 3 months for free. In this plan, you get billed $59.76, to begin with and then annually after the first 27 months. In the second plan, you stand to save 50% whereas the third plan guarantees you savings of up to 83%.

Does Surfshark VPN allow torrenting?
It is important to point out right from the outset that torrenting is the act of downloading and uploading files and it involves the downloading of files from other users' devices on the network instead of downloading the files to a central server. In another instance, it is about uploading files from your devices for other users to download. This is a very popular form of peer-to-peer (P2P) file sharing. In many cases, torrenting is normally associated with piracy because people use it to share files that are protected by copyright such as music, movies and games.
On a positive note, torrenting has got legitimate uses too such as distributing the hosting burden among users. Some VPNs are better suited for torrenting than others and Surfshark VPN ranks among the best. This is because it ensures that only you know that you are torrenting. Another reason is that Surfshark VPN affords you unrestricted enjoyment of the internet whereby you can access whatever content that you love. Thirdly, Surfshark VPN assures you of the highest bandwidth speeds and no throttling at all; regardless of the data you are downloading.
Surfshark VPN server count and number of locations
One of the things that make Surfshark VPN to stand out among many VPNs that are available in the market is the number of its servers and locations in which it is found. It boasts of over 3200 servers in 65 countries that cut across all continents. Note further that all the servers have got peer-to-peer (P2P) support, camouflage mode, OpenVPN/IKEv2, Extension Support, Private Domain Name System (DNS) and Strict no-logs policy.

Surfshark VPN free trial and money back policy
Although there are VPNs that allow for some period of demonstration or free trial, there is no Surfshark VPN free trial. However, there are a 30 days money-back guarantee policy that applies to all the three available plans of subscription. In order to get back your refund based on the money-back guarantee policy, you have got to choose a subscription plan, create an account, activate privacy beyond VPN but this is optional and select your mode of payment. Modes of payment include Credit Card, PayPal, Cryptocurrency, Google Pay, and Amazon Pay. In order to get your money back, you must ask for a refund within 30 days.
Customer support options
As is the norm with many service providers, Surfshark VPN offers customer support in a variety of ways. Customer support options which are available include live chats from their website, information provided under the Frequently Asked Questions (FAQ) page, emailing and tutorials. From their tutorials, you will get started by learning about how to install apps, set VPN on routers and Smart TVs among other devices.
You also get tutored on trouble shooting issues with regard to finding solutions for connectivity, streaming, log-in and many more other issues. You can also find information on billing and your account in respect of invoices, refund policy and etcetera. General information is available too and more specifically about features, streaming services and much more.
FAQ's about Surfshark:
Is Surfshark a good VPN?
Surfshark VPN is not only good but it is the best. This is because its CR% is higher than average in the industry. You may be tempted to ask why this is the case and the best answer lies in the fact that it supports unlimited devices, is available in very many countries of jurisdiction, offers very high speeds because it does not restrict bandwidth, it has got such features as NoBorders mode, Whitelister, Kill Switch, MultiHop and CleanWeb besides having a No-logs policy.
Does Surfshark VPN work with Netflix?
The first thing that comes to users' minds when reading the Surfshark VPN review is "Does it actually unlock Netflix?"
Yes, SurfShark works with Netflix and will unlock it when you're traveling.
Firstly, it must be noted that Surfshark does not grant access to Netflix and so you need to have an active Netflix subscription in order to access Netflix from anywhere using Surfshark. In order for Surfshark to work with Netflix therefore, begin with getting a Surfshark VPN. Connect your device like a smartphone or a computer that supports VPN apps and an active Surfshark VPN subscription. Secondly, install the Surfshark app or browser extension and then connect to your chosen VPN server. Of course, you must find out how to install Surfshark VPN on Linux, Routers, Android, iOS, Firestick, macOS, Windows, or whichever is applicable. After connecting to VPN, log in to your Netflix account and voila, you are done.
Is Surfshark VPN better than NordVPN?
As seen from the above highlights, some features make Surfshark VPN better than NordVPN. This is because of many reasons like the issue of devices whereby NordVPN supports only 6 whereas Surfshark VPN supports an unlimited number of devices. Secondly, NordVPN has got fewer servers and is available in only a handful of server locations as compared to Surfshark VPN. However, if you're looking for a VPN primarily for torrenting then you can get a NordVPN offer or read NordVPN Full Review.
Bottom Line
Surfshark VPN is definitely worth buying! Will all available features and the incredible price makes it to our TOP list of VPN Providers.
With governments across the world targeting websites from other countries for security and geopolitical reasons, Virtual Private Networks (VPNs) are becoming more popular by the day. A VPN is software for the protection of your privacy online. The software can enable you to access streaming services anywhere while remaining anonymous.
When you use a VPN nobody can see what you are doing online because all your internet traffic gets encrypted. Moreover, getting connected to a Virtual Private Network server makes it impossible for your Internet Service Provider to limit your speeds which most providers do especially when you engage in speed-intensive activities like gaming or streaming. Besides, hackers are barred from seeing sensitive information like bank account details and passwords among other things that you may enter online since your data gets automatically encrypted and cannot be decrypted even if it were to be stolen.
Additionally, connecting to a VPN server hides the address of your Internet Provider whereby websites like Netflix which are wont on using IP addresses of users to determine server locations cannot locate where you are doing your online activity from.
Last but not least, Virtual Private Networks with built-in protection help to block malicious websites, trackers as well as pop-up ads, and this effectively prevent malware infections to your devices from these sites. At this point in time, it must be appreciated that the market is full of Virtual Private Networks notably Surfshark VPN.
Check out our current top VPNs Discounts and Deals.