Today, Hola VPN markets itself as one of the most reliable free VPN in the world. 
In fact, they say that they have over 170 million clients; that number would put them at the top list for the best VPN in the world. That, however, is not the case! They still rank way below expectation. Somehow, Hola VPN is still a shoddy VPN service.
Often, clients and IT experts have raised red flags with regard to its concern for clients' safety, privacy, and data safety. Like most free VPN, Hola is only in business to exploit and harvest personal data from clients.
Up to now, you might be wondering, is Hola safe? And should you use Hola VPN?
Here, we shall honestly evaluate your internet safety when using Hola and also provide you with a list of VPN alternatives to Hola.
Is Hola Safe?
For starters, you cannot trust Hola! Even with its purported huge customer base and free VPN service, beware.
First things first, Hola VPN operates differently compared to most premium VPN services. It uses a peer-to-peer system compared to encrypting servers for paid VPN clients. The peer-to-peer network essentially means that most Hola users are using bandwidths/ IP addresses. Ideally, Hola channels your web traffic through someone else's IP address, let's say someone in Germany when your real location is Colombia.
The P2P is unsafe in the sense that you have no control over what it is used for! In any case, that it is used for illegal internet engagements, then the activity will be traced back to you, making you a victim. In fact, you could end up being a convict for something you did not do.
Second, Hola has previously put its clients at risk. Even after its assurances of having fixed vulnerabilities in 2015, a crypto wallet company, MyEtherWallet (MEW), warned that users who accessed their wallets using Hola were at risk of a malicious attack in 2018. At the time, Hola had been hacked for almost 5 hours.
In another instance, Hola VPN was used to attack a message board website, 8Chan, causing Distributed Denial of Service. According to 8Chan founder Frederick Brennan Hola was used to spike the web traffic crashing PHP-FPM.
Learn the benefits of VPN for home use
Why You Shouldn't Use Hola
The big concern for most Hola VPN users is, is Hola trustworthy? The answer to this question is a big NO! How we cannot overlook some of the advantages that come along with its usage.
First, the VPN is absolutely free and has proven effective in helping clients unblock sites. Hola is easy to install and use and does not need advanced technical know-how to use. Most importantly, Hola has no fixed route making it difficult for browser servers to realize you are using a VPN. And while the benefits are undeniable, there is a whole long list of reasons why you shouldn't use Hola VPN. Let's check them out!
Hola uses P2P routing
Unlike most premium VPN that use encrypting servers, Hola runs a P2P network where every user uses proxy server" to access the internet. This means that you have no control over what someone else does with your IP address. Your device is only used as a router, and so if your IP address is used illegally, you could be implicated.
Has a no-log policy
Suppose you are keen enough to read through the privacy policy. In that case, you will notice that Hola VPN collects almost every piece of information from your surfing, including personal billing information, among others.
No data encryption
Hola does not use encrypting servers; instead, it entirely works on a P2P network system that only works to hide your internet identity. This means that your web traffic is still vulnerable to hackers.
Hola sells traffic to affiliates
Like most free VPN services, Hola sells data traffic to affiliate businesses to cater to operation costs and profit. For instance, Luminati, a business affiliate of Hola, sells Hola network access to third-party and hence exposes its clients' private data, something that is unacceptable for VPN clients.
Top 5 Hola VPN Alternatives
It is now much clear to you why you shouldn't use Hola, and we have consequently put together some of the top Hola alternatives VPN for you! Let the countdown begin.
Surfshark VPN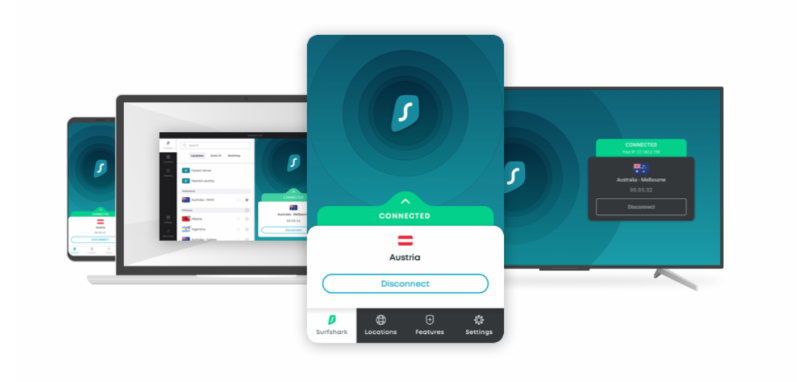 Talk of better price packages and Surfshark VPN beast when it comes to offering high-end security at a reasonably low price. The VPN comes with unlimited simultaneous device usage meaning you can "VPN" every internet-connected device in your house.
To its security protocol portfolio, Surfshark VPN has added OpenVPN UDP and TCP and IKEv2 options making it a much safer VPN to use instead of Hola. It has over 3200 servers in 65 countries and is available for most conventional Operating Systems.
Read Surfshark VPN full review
ExpressVPN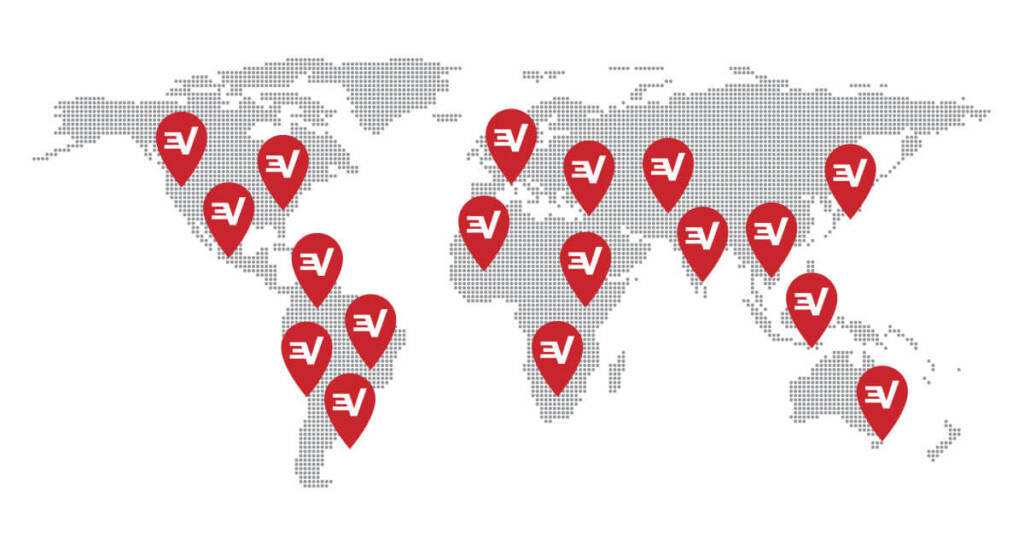 It is a top-class VPN client, hailed for its speed, privacy, and unblocking abilities. This service used AES-256 encryption and a variety of top security protocols such as IKEv2, OpenVPN, and L2TP/IPsec. It is highly preferred for websites unblocking.
ExpressVPN comes with high-end features such as a kill switch, P2P support, and a clear no-log policy, which evidently makes it a better option for Hola VPN. To add to its security for its clients, ExpressVPN allows for crypto payment to ensure that no traceable digital prints for their clients.
Read ExpressVPN full review.
NordVPN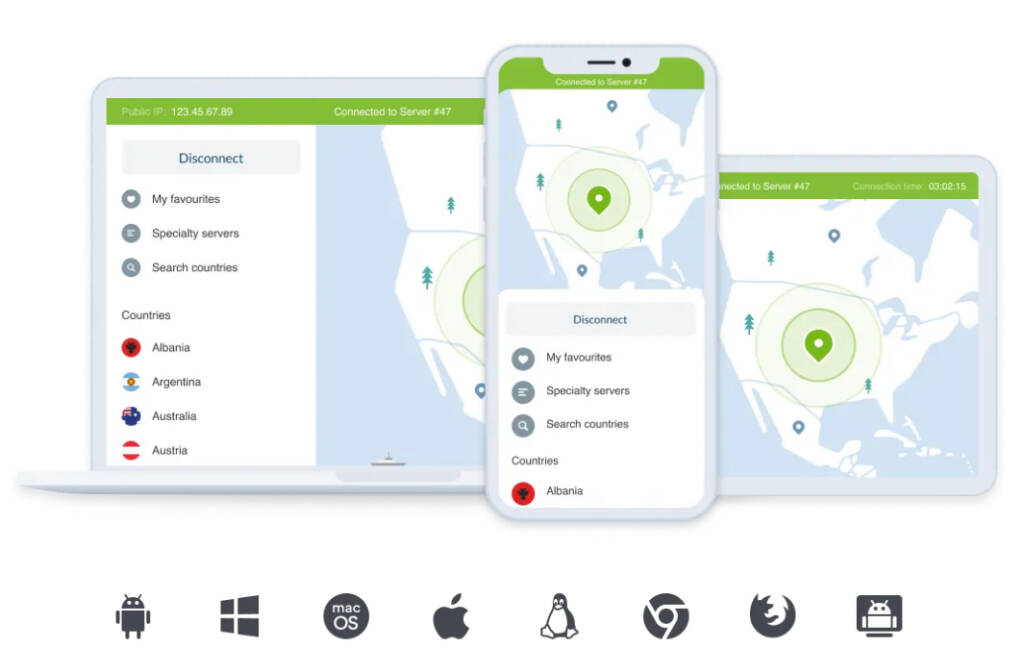 It is rumored to be the best and biggest VPN service in the world. With over 5500 servers in 59 countries, NordVPN provides its clients with a range of encrypted servers to choose from. It comes with military-grade encryption for your web traffic, a kill switch, and a double VPN system that ensures that your traffic is encrypted twice.
Among other notable features include strong DNS leak protection and proxy extensions for popular web browsers. Besides, NordVPN has a 24/7 support desk making a better VPN to use instead of Hola.
Read NordVPN full review.
Cyberghost VPN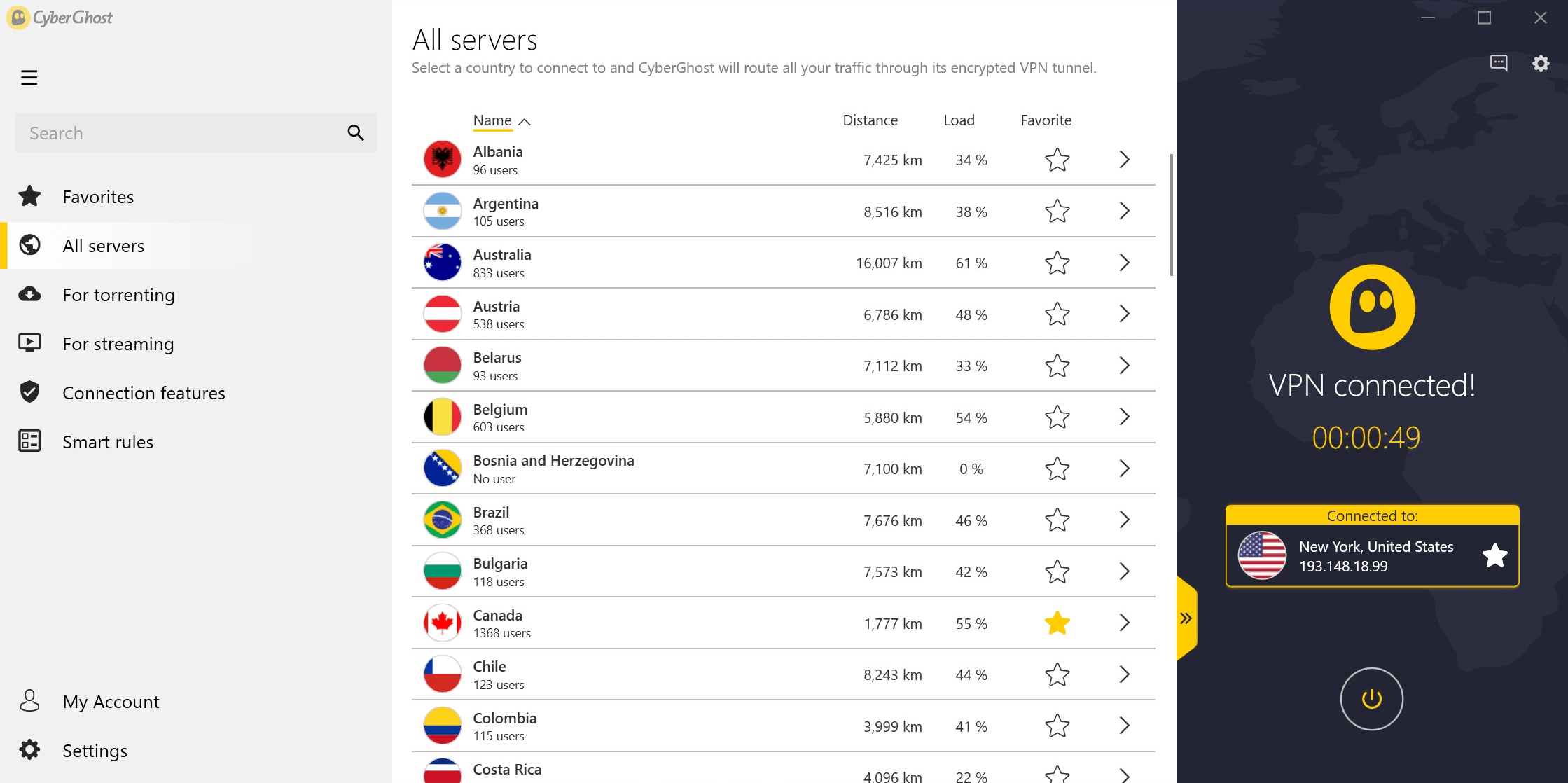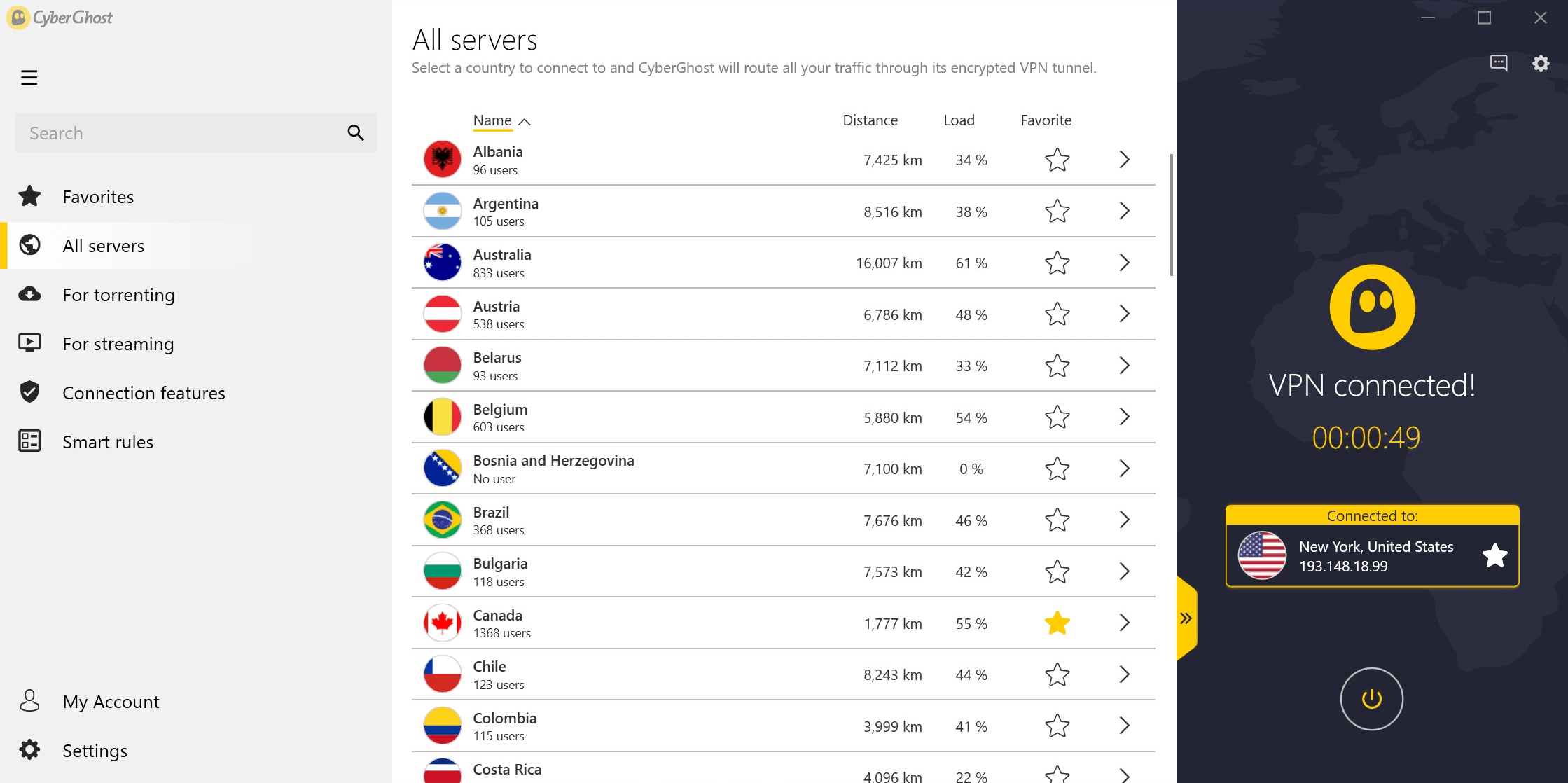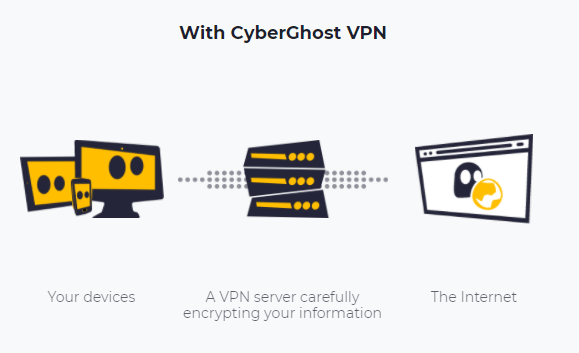 It is a wild customer privacy-oriented VPN service. In fact, most hackers like using Cyberghost to conceal their identity online; that is how private it is. Consequently, the service has a customer base of over 10 million people.
With over 6600 servers in 88 countries, Cyberghost is undoubtedly a big name in the industry. It is a perfect option to conceal your identity and unblock geo-restricted sites for a maximum of 7 devices at any one given time.
It comes with a 45 days money-back guarantee policy and is available for commonly used OS.
Read CyberGhost full review.
Windscribe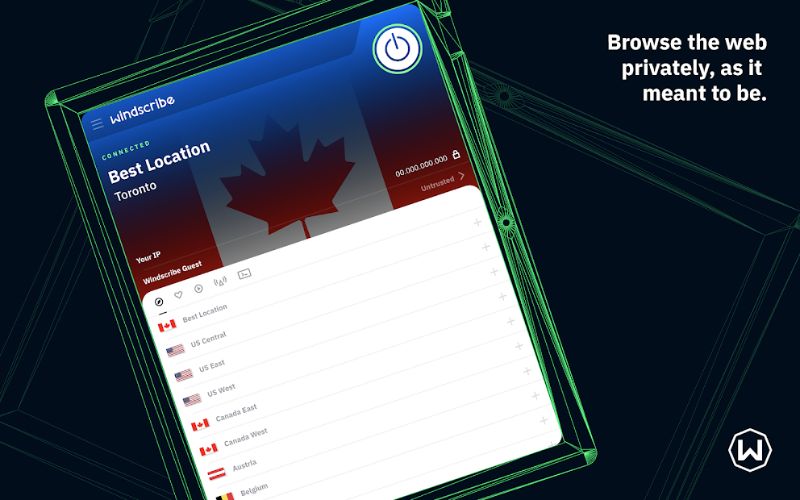 It is an excellent and trusted name in the realm of VPNs. A single subscription covers an unlimited number of devices you can connect simultaneously. The service has a Chrome browser extension and has an active no-log policy.
Windscribe has a 256-bit AES web traffic encryption and 4096-bit RSA key protocol that ensures top privacy and secrecy for its customers. Currently, the VPN services offer new clients a free 10GB bandwidth package.  The VPN works on macOS, Windows, Linux, iOS, and Android.
Business VPN Alternatives to Hola
Besides helping employees surf the internet safely, Business VPNs are primarily designed to provide safe and secure remote access to particular business networks. Usually, VPNs are meant to help employees work remotely, whereby they can access the business server through the VPN over a public network (Internet). And while Hola does not guarantee secrecy and safety for its clients, here are some top Hola alternatives for your business VPN.
HideMyAss VPN Business Solution
Despite its controversial brand name, HMA is a top business VPN with industrial-grade traffic encryption. HMA covers over 190 countries, making it one of the most prominent business VPN solution. It provides for speedy internet connections, up to 20 Gbps speeds. The VPN has a no-IP log policy meaning that your business secrecy and privacy are guaranteed. HMA is compatible with most operating systems.
Read HMA full review
VyprVPN Business Solution
VyprVPN provides for a top dedicated business server with Top-Tier Security and superior performance. It is a Switzerland-based VPN that operates over 700 servers in 70 different locations. 
The VPN client has a no-log policy,256-bit encryption, and supports a variety of top security protocols (OpenVPN, IKEv2, L2TP/IPsec, PPTP, and Chameleon) for your business. Also, VyprVPN comes with a kill switch that prevents any data leak if you lose your VPN connection making it a profound and better VPN to use instead of Hola.
Read full VyprVPN review
Have you tried any of these VPNs? Let us know in your comments which one is your favorite!